ABOUT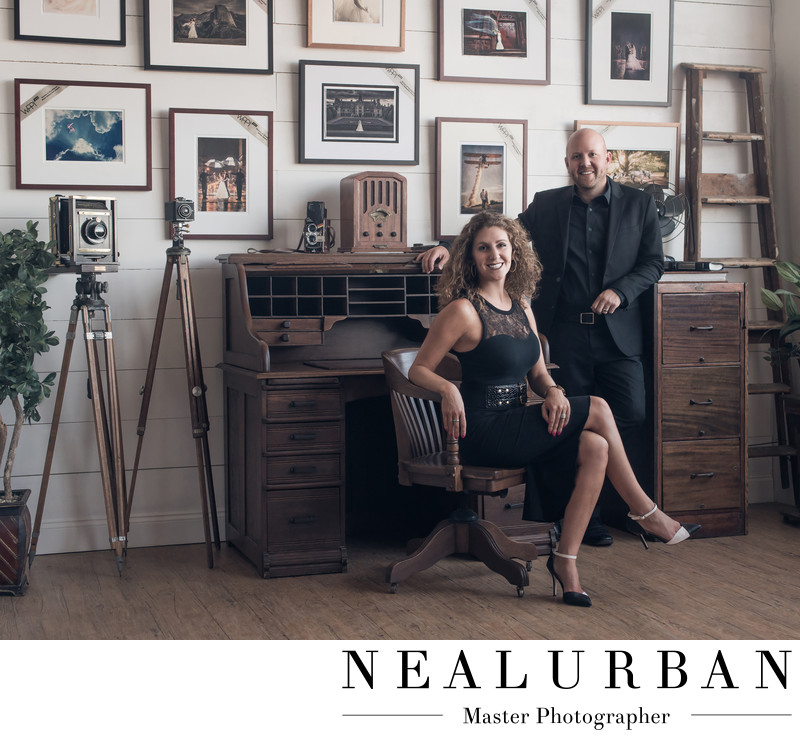 Neal and Danielle Urban are husband & wife wedding photographers based in Buffalo, NY and capture weddings throughout the United States and also document Destination Weddings outside of the country. They've had the pleasure capturing weddings in Jamaica, The Bahamas, Antigua, Mexico, Boston, NYC, Baltimore, Washington D.C., Florida, North Carolina, Las Vegas & Alaska!
Neal is a self-taught, third-generation photographer who discovered his passion for creating images after picking up his late grandfather's WWII-era camera.
In 2007 Neal was pursuing to be a fashion photographer. A friend asked Neal to shoot his wedding. Neal didn't want the stress or responsibility of being a wedding photographer and turned down the offer. The friend was persistent and Neal reluctantly said yes. Neal put an artistic perspective on the wedding and quickly became in high demand.
In 2016 Neal earned the elite title of "Master Photographer" by W.P.P.I. (Wedding & Portrait Photographers International). There are slightly over one hundred photographers in the World that hold the title of a "Master Photographer" and Neal is one of them!

In 2009 Danielle came on board and learned the basics of photography from Neal. She quickly developed her own unique style inspired by her background in fashion. She also became in high demand to be a main photographer. Danielle is also very involved with editing, album design, scheduling and client communications.
Neal & Danielle are a husband & wife team who only work together delivering their clients two different shooting styles on one wedding! Neal's style is dramatic with visual impact that tells a story while Danielle's style is naturally beautiful, bright and airy with fashion in mind.
Neal & Danielle have won some of the most prestigious awards that a photographer can receive. They graced some of the biggest International wedding magazines that include Cosmopolitan Brides in China, RangeFinder Magazine, Professional Photographer Magazine and PDN Top Knots. They are authors of two photography books sold worldwide, "Dream Weddings", "Art of Engagements" & "iPhone Photography for Everybody" published by Amherst Media Inc. They've also been published in five other books sold in national retail stores as well as Amazon.com.
When Neal & Danielle aren't shooting weddings they are active in their community and give back when they can. In 2014 they started the annual "Photos for Toys" drive where they build a beautiful Christmas scene and people receive a large discount when they donate an unwrapped toy. Over the years Neal & Danielle have raised over $35,000 in toys for local families in need! They often run special discounted photoshoots for our active military, veterans, police officers, fire fighters and first responders.
Are you recently engaged, expecting a baby and want to be photographed by two of the top photographers in the industry?
Spark up the conversation and contact Neal & Danielle today!